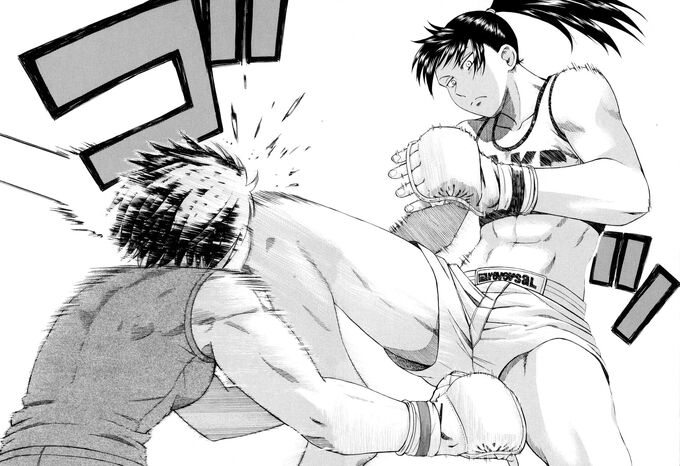 This is a wiki about the seinen manga titled "Teppu" (鉄風). This is a wiki where everyone can help out by adding and editing articles! The wiki has now a number of 535 edits, and currently editing over 22 articles and still expanding, since February 11, 2014.
Teppu (鉄風) is an ongoing manga series written and illustrated by Moare Oota. Its serialization started in 2008 in Kodansha's seinen manga magazine Good! Afternoon.
The plot revolves around Natsuo Ishido, a freshman in high school. She has a natural talent for everything she does, and as a result becomes bored with doing anything. She is often praised (and occasionally hated) for her incredible talent, but in reality she feels lonely, so she is often looking for more and more things to occupy her time. As she fails to find anything that is sufficiently challenging, her loneliness and boredom reach a bottomed-out state.
Natsuo Ishido is the series' main protagonist. She cannot understand why other people cannot do things which she can do and that is because she is naturally talented at everything she does. This has given her a condescending attitude against her opponents, who she goads and teases during their match and after Natsuo's inevitable victory. She is also ruthless when fighting, whether or not the fight is a serious one. Natsuo has come to the realization that people with the ability to be the best without even trying have the hardest time, since they don't have anyone to bond with and their whole life is one big competition. She is lonely and yearns for someone who can defeat her and give her something to actually work for. This is all hidden, however. In addition, Natsuo seems to fear her brother, for reasons yet to be revealed.
Spring Season 2021 Anime Wikis

TV Anime

TV (Multiseason)

ONA

OVA

Specials

Film
Community content is available under
CC-BY-SA
unless otherwise noted.